Private Jet To Colombia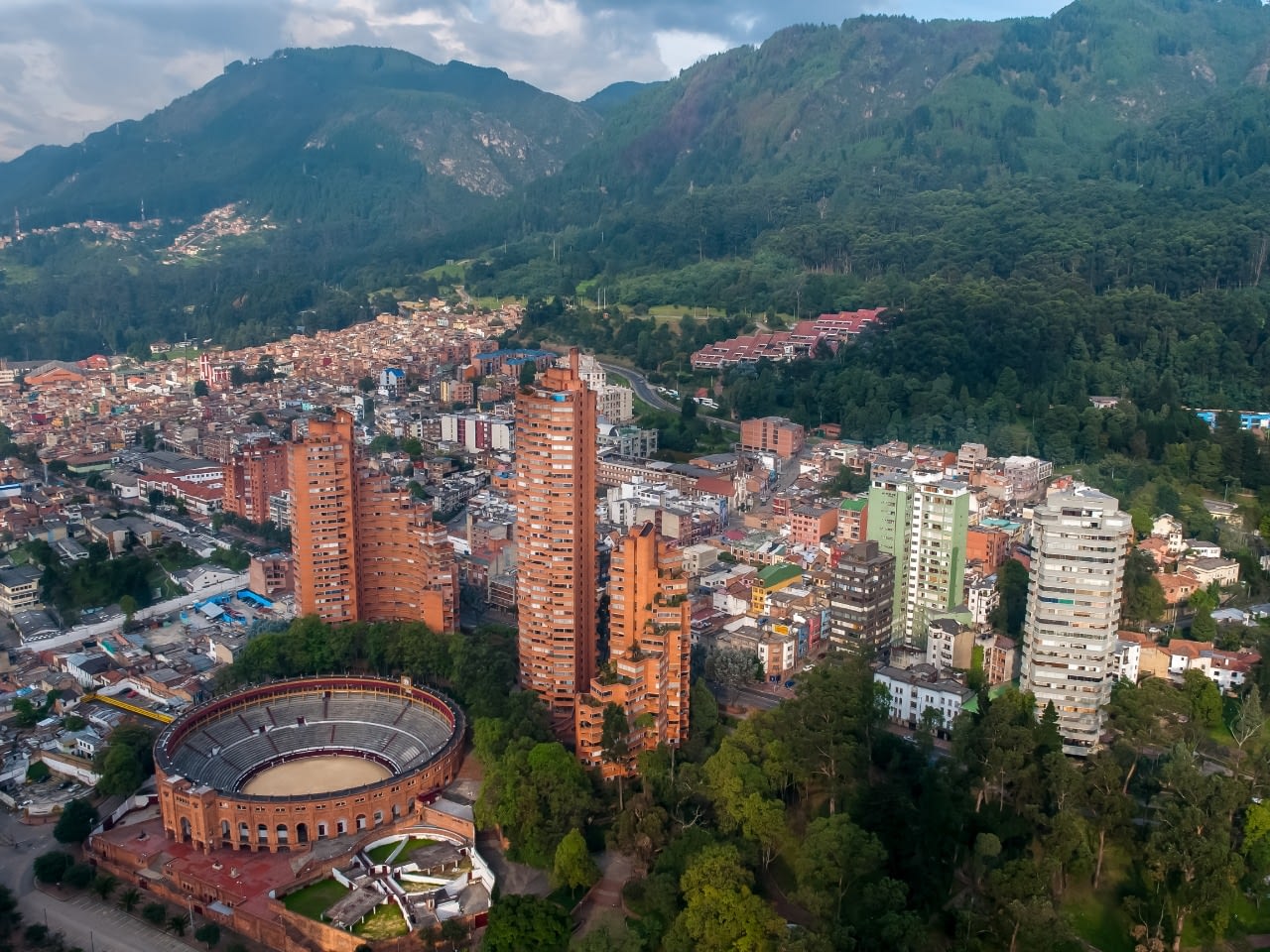 Charter a Private Jet to Colombia
Colombia is home to part of the Farringdon Jets team, putting us in the ideal location to assist clients looking to charter a private aircraft to, from and within the country. You can rest assured that you will be travelling securely and in luxury; no matter when or where you are travelling, we will find the right aircraft for you. 
Colombia's capital, Bogotá, is a South American home to many global giants including Coca-Cola, EY, PWC, GE and P&G just to name a few. It also has a reputation as a cosmopolitan city rich in art and culture. Medellín, which has been competing with (and dare we say beating) Bogotá in popularity, has often been referred to as the "Silicon Valley of South America". With Medellín being home to thousands of startups, routes between these South American cities and the rest of the Americas are very popular. 
Of course travel to Colombia is not all about business. Just under 6.8m tourists visited Colombia in 2019. Although the aforementioned cities receive a large number of tourists, a lot of tourism goes to the coastal cities and towns of Cartagena, Santa Marta, Barranquilla and of course the beautiful San Andrés Island.
Farringdon Jets are specialists in jet charter services throughout Latin America, and we will help you make the most of your experience, whether you are travelling for business or pleasure.
Colombia Private Jet Charter Cost
Some local operators have a bad reputation for using old and poorly maintained aircraft which, apart from taking away from your luxurious experience when flying, can also be more accident prone. At Farringdon Jets, safety is our first priority. Colombia is home to part of the pre-vetted fleet of 1,900 aircraft we have access to worldwide, which are fully equipped with the most up-to-date technology and luxuries that private planes are known for.
We strive to deliver the best price without compromising your safety or experience. We do this by only offering you the best aircraft available, with up-to-date maintenance logs and safety requirements. With our expertise we are able to pinpoint the ideal aircraft for your particular journey to get you to your destination in comfort. Getting a quote from us is as simple as filling out your trip requirements on our Fly With Us Page or filling the short form below. One of our air charter specialists will then be in touch to provide you with a quote and the next steps.
Colombia Private Jet Options and Terminals
Whether you are planning to fly to Colombia from abroad or planning to fly internally within Colombia, we have access to a full fleet to take you on your journey.
With 46 domestic and international airports to choose from throughout Colombia's 32 departments, we use our unrivalled knowledge of the country to find the best airport to take you as close as possible to your final destination. We can also offer ground and helicopter transfers at request.
Colombia's Top 15 Busiest Airports
| | | | | |
| --- | --- | --- | --- | --- |
| # | Airport | Location | IATA | ICAO |
| 1 | El Dorado International Airport | Bogotá | BOG | SKBO |
| 2 | José María Córdova International Airport | Medellín | MDE | SKRG |
| 3 | Alfonso Bonilla Aragón International Airport | Cali | BGA | SKCL |
| 4 | Rafael Núñez International Airport | Cartagena | CTG | SKCG |
| 5 | Ernesto Cortissoz International Airport | Barranquilla | BAQ | SKBQ |
| 6 | Simón Bolívar International Airport | Santa Marta | SMR | SKSM |
| 7 | Gustavo Rojas Pinilla International Airport | San Andrés | ADZ | SKSP |
| 8 | Palonegro International Airport | Bucaramanga | BGA | SKBG |
| 9 | Matecaña International Airport | Pereira | PEI | SKPE |
| 10 | Enrique Olaya Herrera Airport | Medellín | EOH | SKMD |
| 11 | Los Garzones Airport | Montería | MTR | SKMR |
| 12 | Camilo Daza International Airport | Cúcuta | CUC | SKCC |
| 13 | El Eden Airport | Armenia | AXM | SKAR |
| 14 | Alfonso Lopez Airport | Valledupar | VUP | SKVP |
| 15 | Antonio Narino Airport | Pasto | PSO | SKPS |
Colombia Private Jet Security
The growing level of safety and security in Colombia is gradually overcoming the reputation the country once had in the international media back in the 80s and 90s, and more and more entrepreneurs, expats and multinational corporations are now calling Colombia home. Tourism in Colombia has also overcome its troubled reputation and the country is now known for its scenic mountains, biodiverse tropical rainforests home to an extensive number of animals and vegetation, and of course divine beaches on both its Atlantic and Pacific coasts. If you would like that extra peace of mind on your next visit, we can work with our specialised security partners to ensure you the highest level of security and comfort on the ground during your trip.
No matter the extent of your security needs we have a solution for you. Our experienced security partners can offer a range of services from low profile armoured cars with highly skilled drivers, highly trained armed or unarmed bodyguard protection, threat analysis and vulnerability assessment, journey management, media team security, executive protection and more.
Top Luxury Destinations by Private Jet in Colombia
Over the last couple of decades Colombia has shown incredible economic growth, being named Latin America's 3rd largest economy in 2012, which it held until 2014, only slipping down to 4th spot due to the hit to oil prices. Nonetheless all of this economic growth led to a surge of luxury hotels, properties, attractions, activities and services catering to affluent clientele.
Here are the top 5 hotels available in the some of Colombia's most popular destinations:
Bogotá
Grand Hyatt Bogotá
JW Marriott Hotel Bogotá
Four Seasons Hotel Casa Medina Bogotá
Sofitel Bogotá Victoria Regia Hotel
Four Seasons Hotel Bogotá
Cartagena
Hotel Quadrifolio
Hotel Casa San Agustin
Sofitel Legend Santa Clara Cartagena
Bastión Luxury Hotel
Sophia Hotel
San Andrés
Hotel El Dorado
Miraflores Boutique Hotel
Solare SAI Ecohotel
Decameron Isleño – All Inclusive
Hotel Caribbean Corals By Portofino
Medellín
The Charlee Hotel
Hotel Dann Carlton Medellín
Hotel Du Parc Royal
Hotel Poblado Plaza
Medellín Marriott Hotel
Empty Leg Jet Charters in Colombia
Empty leg flights for Colombia are an amazing way to shave down the overall cost of your trip. Empty leg flights refer to catching a ride on a plane that would otherwise be flying empty for the purpose of being repositioned to a different airport ahead of a pre-booked flight or a returning plane going back to its base after going on a one-way trip.
With flights to, from and within Colombia being so popular, you can usually secure great empty leg offers, however only if you act quickly as many people keep a keen eye on these offers and snap them up. 
To keep up to date with our latest empty leg offers, subscribe below.
Colombia Private Jet Charter Catering Options
One of the main benefits of flying privately is the entire service is bespoke to your needs, including the catering. We will endeavour to provide you with the meals, snacks and beverages of your choice, navigating any dietary restrictions that you may have. So whether you are craving fast food from your favourite restaurant chain or want to indulge in a three course gourmet meal from a private chef, just let us know and we will do our best to make it happen.
If you are flying for a special occasion such as an anniversary or birthday, please let us know so we can play our part in making it an extra special experience for you.
In the event that you do not need catering due to a short flight or would rather bring your own food and beverages onboard that is also completely acceptable.
Colombia Private Jet Based Experiences
If you want to visit Colombia but want to take the stress out of planning, how about having our team curate the trip for you? Whether you are looking for a laid back cultural getaway, or an action packed trip to get your adrenaline pumping, we are at hand to help to make sure you return home with amazing memories.
Want an idea of the experiences we can curate for you?
How about glamping in the Tatacoa Desert.

Become one with nature in the world's largest rainforest, the Amazon.

Escape from the world in a villa on a private island, prepped with all the water sports to keep you and your group occupied and let the entertainment come to you.

A deep dive into history and culture through the country's capital, from museums to cuisine.

Soak up nature in natural hot springs with the most amazing views of the Andes mountain range.
The list of Colombian experiences we have curated along with itineraries tailor-made for our clients goes on and on. Just let us know what type of activities you have an appetite for and leave the rest for us.
If you are celebrating a special occasion like a bachelor/bachelorette party, anniversary, honeymoon or birthday, we will make it extra memorable for you.
Colombia Private Jet Charter Quote
Whether you are looking for a one-way jet charter or a fully curated trip, to find the best quote for your next trip to Colombia just fill out our contact form and one of our team will be in contact to provide a bespoke quote to fit your travel needs.